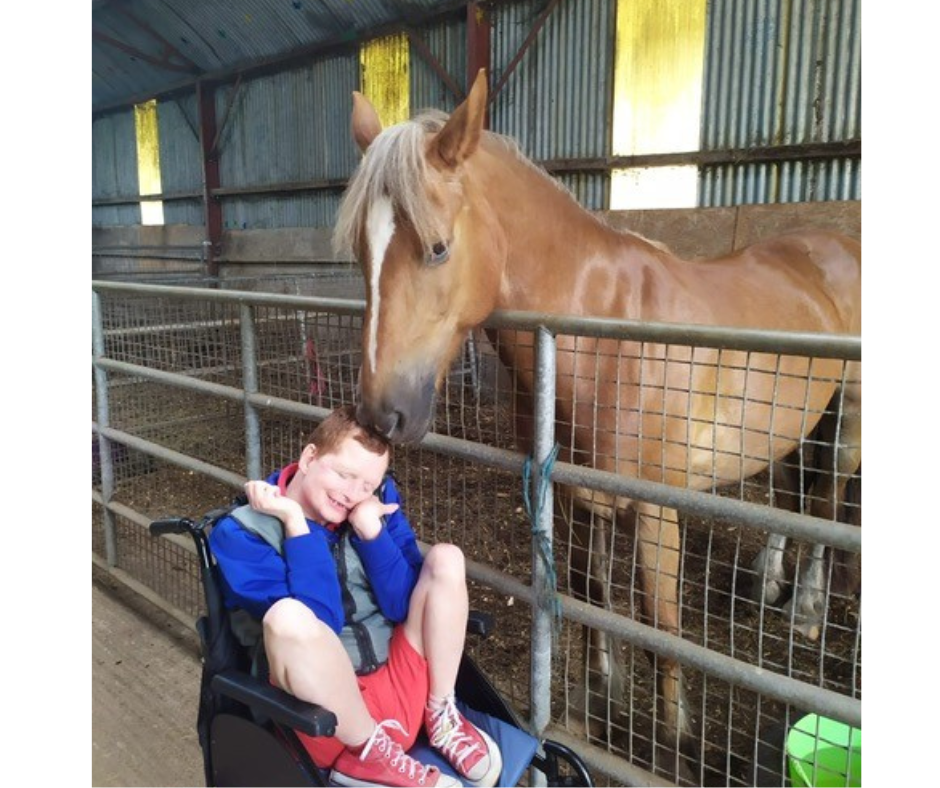 02 Aug

Equine Therapy at Dublin South East

Willie from Montemor centre in Dublin South East has been with the service since 2000. Willie is non-verbal but a wonderful communicator. He knows exactly what he wants, when he wants and how he wants it. Willie has a great sense of humour and the most beautiful personality. His energy is infectious, people are drawn to him. And there is no creature in the world that could not be charmed by this extraordinary man.

It all started as an idea. Equine therapy 'it can't be bad' we thought, 'let's give it a go'. When we brought Willie to the first session, he tried to sink into his wheelchair as deeply as he could so the horses wouldn't be able to reach him. We gently walked around the farm, listening to the sounds and inhaling the smells. Willie sat up taller and taller with each session. It was wonderful to see his confidence grow with each visit. Equine therapy became a meaningful activity to Willie.

Today Willie enjoys rubbing his bare feet on pony Barney's back. He loves feeding the horses carrots and gets excited when horses lips gently touch his fingers. He accepts every single kiss from his favourite horse, Cindy, with big smile on his face. He sits as tall as he can when Cindy gently smells and kisses his hair. These are such beautiful moments. To see Willie so engaged, so present, so happy… It's magical. He takes so much out of it. He's so content and relaxed not only the day therapy takes place, but few days after it.

'What's next?' we thought. Let's challenge ourselves even more and take a horse and carriage ride through Dublin City! And Willie did it! So much fun was had that day. We took a half an hour ride first, then walked down Grafton Street, listened to buskers, stopped in a pub for lunch and a pint of Guinness and took a stroll in St Stephen's Green. Willie slept for two days and two nights after the experience, he needed time to process the whole experience.

Next on our list is horse riding. It'll take time, but we hope to see Willie on a horse in the near future. The possibilities are endless.

It is an absolute privilege to be part of Willie's journey. His smile is the biggest reward. Seeing him happy brings so much joy and satisfaction. Everybody deserves to be given opportunities and experiences. Trying everything and anything is the way to discover what one likes or dislikes. During that process we learn so much about the individual and ourselves. We also give a chance to our society to learn that there are very special people amongst us who see a world a little bit differently.

Willie takes my hand and brings me to the door. He looks at me. His eyes are saying 'Come, I'll show you my world. Don't be afraid. Trust me. It's beautiful…'

Willie isn't afraid to take risks, we are. Willie doesn't hesitate to try new things, we do. Willie isn't comfortable living in the world with locked doors, we are. Willie isn't uncomfortable out in the community, we are. Willie doesn't see limits, we do.