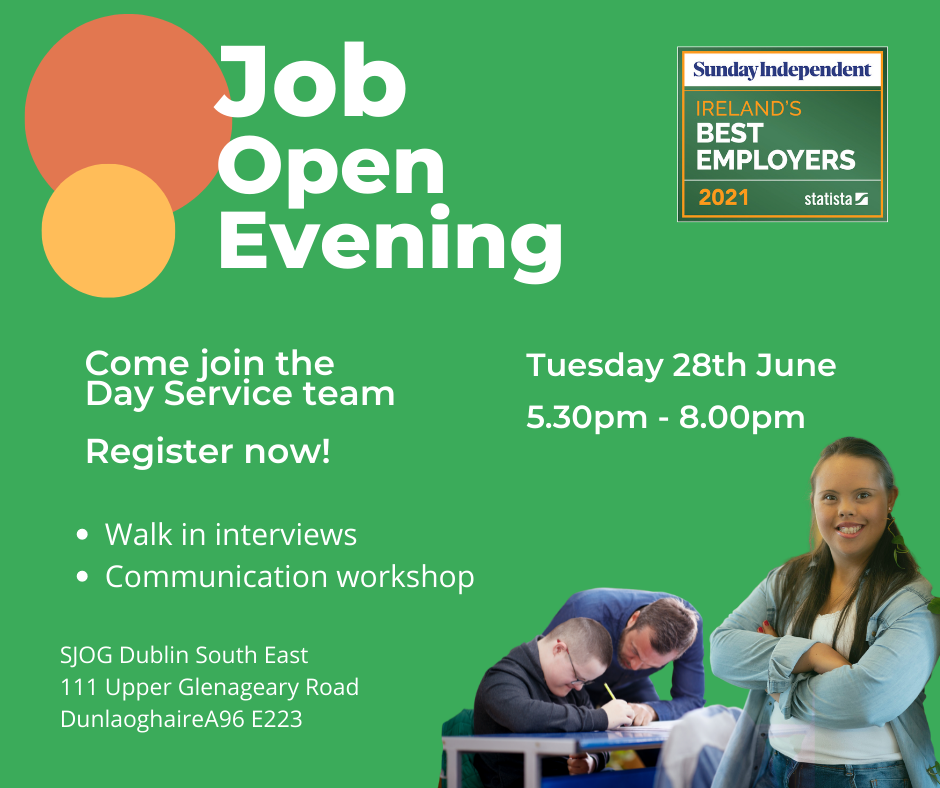 07 Jun

St John of God Dublin South East Job Open Evening

Date: Tuesday 28th June

Time: 5:30pm – 8:00pm

Location: Saint John of God Dublin South East, 111 Upper Glenageary Road, Dun Laoghaire

Supporting people to go for what they want in life

St John of God Dublin South East has lots of new opportunities in Day Services for Instructors, Key Workers, Social Care Workers, Nurses & career changers!  Attend their Job Open Evening and chat with some of the team to find out more.

Register here– https://www.eventbrite.ie/e/st-john-of-god-dublin-south-east-job-open-evening-tuesday-28th-june-2022-tickets-348639779967

Check out existing vacancies on www.sjogdse.ie/jobs.

While you are there attend our free workshop facilitated by an expert in the area!

Workshops

6.30pm – 7.15pm Communication with the Men and Women and we support, including an introduction to Lámh

We communicate with the men and women we support using a variety of communication means that suit their individual needs. These can include Lámh, Visuals (timetables, Communication books etc.) and Alternative Communication (including technology).  In this workshop you can increase your skills in this area as we will discuss and demonstrate these strategies. This will be an interactive workshop where you can ask questions, get hand outs and learn more about communication.

Refreshments will be available in Oasis Café. Free Parking on Site

If you can't make it on the day and are interested in working with St John of God Community Services, send your CV to DSERecruitment@sjog.ie quoting 'Open Evening' in the subject line.